Contact Mark
About Mark T. Howard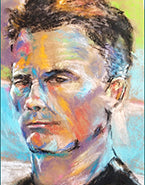 Life-long painter, Mark Howard works in the 2-dimensional art form, with an astonishing array of styles and techniques. Howard has undergone decades of superior instruction, mentorship and self-development. Countless great master painters from Leonardo Di Vinci, Claude Monet, Edgar Degas, Picasso to Marc Rothko have greatly influenced Howard's work. In this light, Howard's main focus areas include: Plein Air, Life Painting, Impressionism, Cubism and Contemporary Abstraction.
Howard works in acrylics, oils and non-traditional mediums. He is an accomplished North Shore surfer; an award-winning illustrator; and has earned an MBA from Hawaii Pacific University, a BBA, and a BA in Art from University of Hawaii Manoa.
Howard resides in Waialua, on Oahu's North Shore.
Located in Waialua, HI • email Mark
Ph: (808) 358-0682